Raidlight Ring of Fire 50km Ultra
NOTE: ALL ONLINE ENTRIES (AND THE STORE FOR PURCHASING 50KM BUS TICKETS) WILL CLOSE ON MONDAY THE 6TH OF MARCH @ 5.15PM.  SUBJECT TO AVAILABILITY, ADDITIONAL ENTRIES MAY BE AVAILABLE AT THE TUSSOCK TAVERN FROM 2.00PM ON FRIDAY THE 10TH OF MARCH 
4.30am – 4.45am: buses depart from Chateau Tongariro
6.15am: start from the top of Ohakune Mountain Road
7.11am: sunrise
11.53pm: first Finisher Expected
1.35pm: course Cut-Off to leave Tukino Aid Station
3.35pm: course Cut-Off to leave Waihohonu Hut
7.15pm: course Cut-Off at finish line
7.45pm: sunset
NO Saturday Registration
Friday pre event registration is compulsory for all Ring of Fire 50km entrants.
There is no opportunity for pre event registration on race day.
Minimum Age
Entrants must be 18 years on event day unless an exemption (based on previous performances) is granted by the Race Management team. Requests can be emailed to info@ruapehutrailfestival.co.nz
Compulsory Gear
This event requires the absolute full list of compulsory gear and is the same as Ring of Fire 73km entrants.  Please download this file Comp Gear 73km and 50km for details on exactly what is required so you are prepared.
Check out our sponsors, True Fleece Merino for your base layer long sleeve and beanie!
Entry Qualification

This event is a beast and you must be fully prepared to take on this distance and level of elevation change, high up in the mountains. Our
safety management plan is comprehensive and is resourced to respond to both well prepared entrants "having a bad day" and the usual spills an event like this usually has.
However, it is important that you have physically prepared yourself for the challenges of the Ruapehu mountain running environment.
Please do your best not to overestimate your current ability by simply using your local training run times and distances to determine your
expected finish time for this event.
For this reason, it is critical that knowingly underprepared entrants in any specific distance shift to an alternate distance – one in which they feel fully prepared to meet the challenge ahead.  There is no prerequisite qualifying time for the event as such (that may
come in future years) but you will be asked to submit answers to some simple questions (shown below) during the online registration
process.
In accordance with our Safety Management documentation and upon reviewing your supplied info, our course team reserves the right to:
– Request additional/updated information/evidence of preparedness from you.
– Downgrade your entry to a shorter distance (appropriate refunds will be made in these scenerios)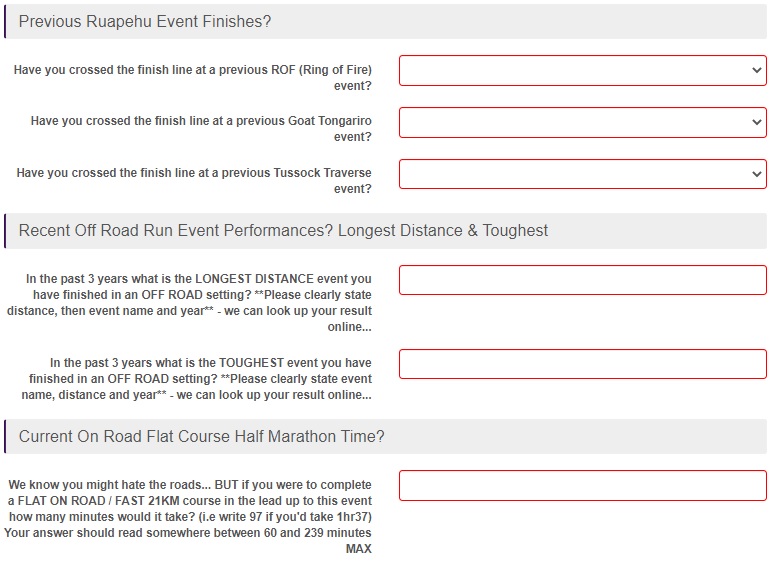 Tracks Used
Start at the top of Ohakune Mountain Road.  Turn left into the Round The Mountain Track.   Merge with the 32km entrants at the Tukino Access Road Aid Station.  Merge with the 21km entrants near the Waihohonu Hut.  With 3km to go follow the Lower Taranaki Falls Track to the finish.
Terrain
This 50km epic starts with the Ohakune Mountain Road descent, then enters native bush trails. It breaks into open boulder fields and includes the crossing of the Wahianoa River (there is a swing bridge) and finishes with sand, tussock, and rocky terrain at the top of the Rangipo Desert.
The first half of your course is technical and includes big valleys with long climbs which are very exposed in sections.  Once you leave the Tukino Access Road Aid Station you are on a true desert landscape, featuring wind sculptured sands and volcanic rock to the Ohinepango Springs, climbing to the Tama Saddle before descending homeward on well-formed tracks.
Please note: Your course is essentially Leg 2 (The "Missing Link" Leg) and Leg 3 (the "Traditional Tussock" Leg) of the epic 73km Ring Of Fire Ultra event – you can read up more about that event here.
Course Cut-Off Times

50km entrants who have not departed the Tukino Access Road Aid Station (approximately 27km from the startline) prior to 1.35pm will be required to exit the event course and take event transport from Tukino Access Road.
The first section of the course from the start line to Tukino Access Road is considerably tougher than the second section home.  50km entrants who have not departed the Waihohonu Hut area (approximately 35km from the startline) prior to 3.35pm will be required to exit the event course at the Hut and walk out to the Desert Road with our course crew.
The finish line is closed for 50km entrants at 7.15pm (13 hours after the start)
If you are concerned about the cut-off times, please remember we have the 32km Tussock Traverse option to consider for 2023 until you feel more prepared to tackle the Ring of Fire 50km course.
Aid Station (with 24km to go).
While it's strongly recommended for entrants to be self sufficient on course,  (and to absolutely take advantage of the drop bag service), the event will have medical support, food and drinks available for you at the Tukino aid station.
Offerings include:
Watermelon slices
Orange wedges
Boiled sweetcorn thirds (toothpicks provided)
Jet planes
Lightly salted pretzels and chips
Bread (GF also available)
Fix and Fogg Peanut Butter (smooth) & Cookie Butter With spoons or bread
Tailwind Orange Mandarin (non caffeinated) electrolyte drink
Tongariro Water
Cola
Time Spent In The Dark
In the morning you have a 6.15am race start with sunrise not until 7.11am.  Your first 4.5km is on the road so by the time most entrants are into the trail section it will be knocking on the door of Civil Twilight (approx 6.45am).  You will need a headlamp to move around the start area and for up to an hour on the event course in the morning.  In the evening you have a course cut-off of 7.15pm (if still on course) and a sunset creeping up at 7.45pm so while you may not spend any time in the dark in the evening, you need to be prepared.
A Cupless Event
We are not providing cups at the Aid Stations because we are trying to minimise the waste created from the event. Please bring your own cup or cups.  There are some very good silicone cups for sale in NZ.
Gear Check In / Collection Info
Any personal gear that you would like available at the Tukino Access Road Aid Station can be left in clearly marked drop bags with our registration crew Friday night. (see Drop Bag Service info below)
Any personal gear (that you don't want to take on course with you) can be dropped into the Gear Bus near the start area. Any personal gear dropped to the Gear Bus will be available for collection at the finish area.
Drop Bag Service
Anytime during the Friday event registration, 50km athletes have the opportunity to provide our crew with specific gear/food/drink that they would like available to them at the Tukino Access Road Aid Station. All gear must be in your own bags (ideally super recognisable to you).  Make sure your bags are sealed, compact and have your name on them. We will also provide you an ID sticker (with your race number on it). There is no spectator access to the Tukino Access Road Aid Station, hence the drop bag service.  Drop bags will be returned to the finish area and can be collected following the closure of the Aid Stations.  You will need your event number to pick up your drop bags at the finish area on Saturday.  Depending on timelines gear bags can also be collected Sunday morning from us at the prizegiving.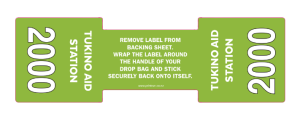 Parking and Transport Info Pre Event

Bus transport to the start of the event is optional and it is user pays ($35.00).
You can book this through the online registration system.
All bus transport departs from the one location inside Whakapapa Village (on the ramp right outside the Chateau Tongariro Main Reception doors). Traffic management and key event staff will be onsite assisting with your arrival and efficient loading onto the buses. Please arrive on time. You need to be visible to event staff at 4.30am to enable smooth boarding and departure by 4.45am (LATEST).
There are no additional bus pick up points along the way to the start line, however supporters are free to park in and around the start line if they wish to drive to the start line and watch their athlete start. Bus transport will arrive in the start area approx 20-30 minutes prior to your race start.
Thank you to our sponsors!
Top